Back to College Savings Hack: Walmart Dupes Edition
Top 10 Back-to-College Dupes to save on at Walmart:
It might surprise you that some of Walmart's store brand products don't suck; in fact, some of them are actually pretty good copies of the name brands you're familiar with. The Equate and Equate beauty lines offer some products that can go toe-to-toe with the name brands on quality, and leave them in the dust on price. We've compiled the ten products we recommend picking up the Equate version of for your back to college shopping needs.
1. Equate Beauty Version of Burt's Facial Cleansing Towelettes: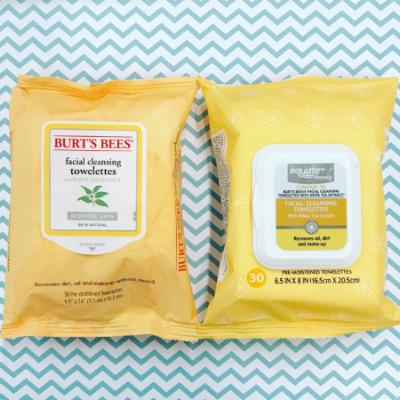 This dupe scored a super-high 91%. Note that the smell of the Equate version is slightly different than the Burt's Bees, but some consumers did not even pick up on the difference.
2. Equate Beauty's version of Neutrogena Ultra Sheer Sunscreen: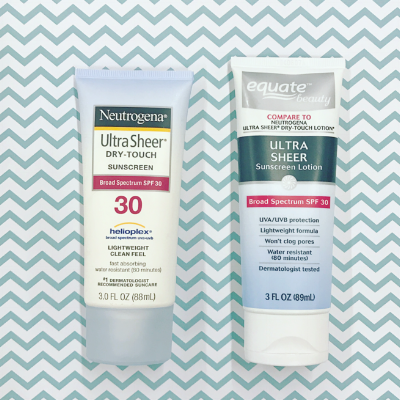 This dupe gets a whopping 89% similar rating. Lather it up before you head out to tailgate and save $3 while doing it.
3. Equate Beauty's version of Vitafusion Gummy Multivitamins: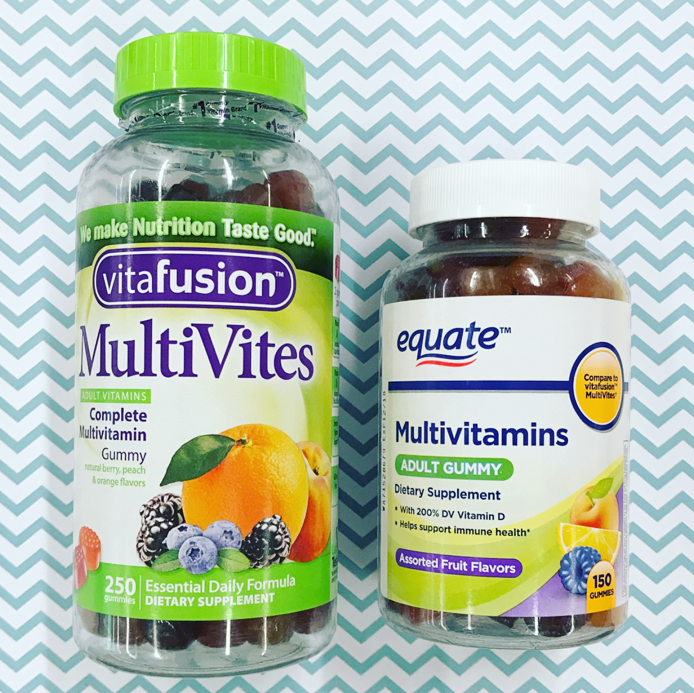 Ingredient panels are identical, so we checked with Walmart. (Note: Walmart has awesome transparency initiatives -- call their number Equate number and they will tell you the manufacturer.) They claimed it was made by Church & Dwight, makers of the name brand version. This makes sense, because it rated 91%.
4. Equate's version of Eucerin's Original Healing Cream:
The packaging may not be quite as pretty with the Walmart Version, but the product still scored an 86% in similarity to the name brand. Equate is slightly thinner and contains two ingredients that are different from the name brand, which is why it did not get a 100% score.
5. Equate Beauty's copycat of Biolage Matrix Shampoo: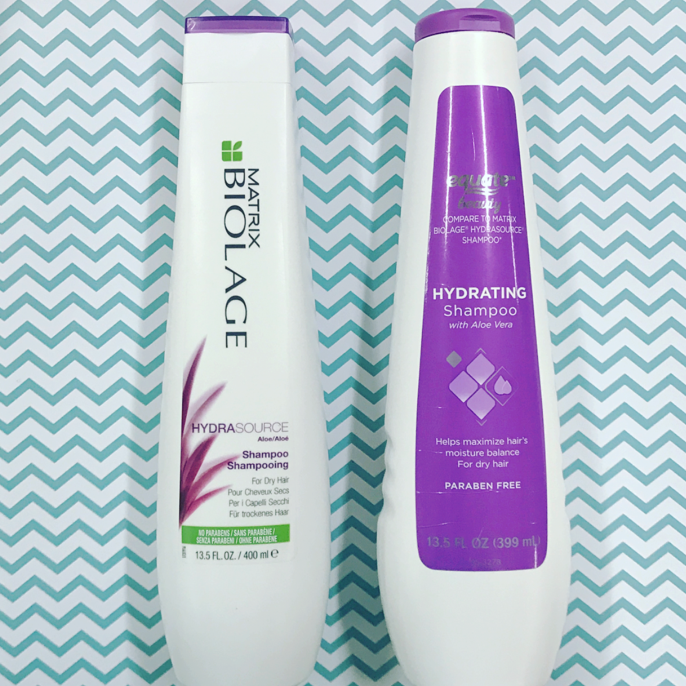 This find is a serious money-saver for Biolage lovers. The fragrance ingredients and smell is slightly different, but overall consumers are happy with how this product compares (and the fact that it is $9 less expensive).
6. Equate Beauty's dupe of Proactiv's 3 Step Acne System: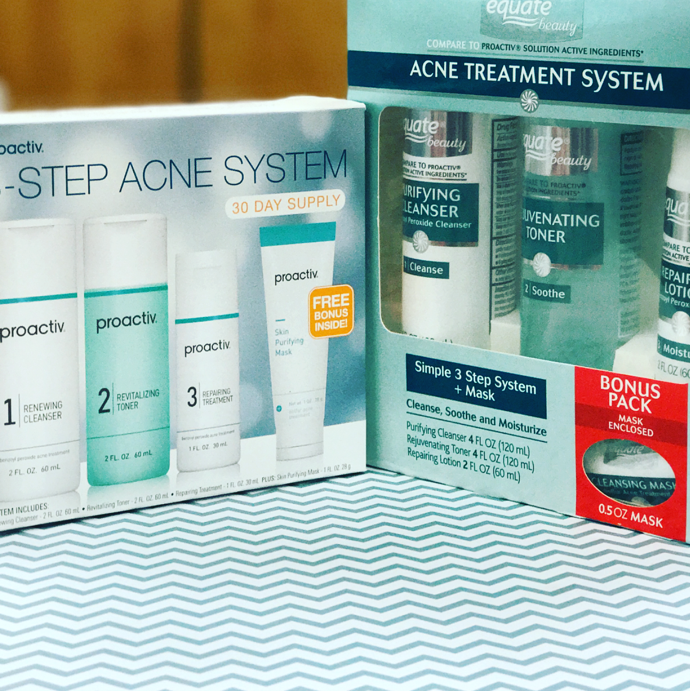 While we preferred Up & up's 3 step acne system to the equate version, it still offers a solid duplicate to the $36 Proactive version, at less than half of the price. All of the active ingredients matched, and the inactive ingredient panels are very similar. However, the facewash wasn't nearly as gritty as the Proactiv cleanser, and the toner smells a bit different. The toner takes a bit longer to absorb as well.
7. Equate Beauty Pink Grapefruit Cleansing Wipes:
The major difference between these and the Neutrogena Oil-Free Pink grapefruit cleansing wipes is that the Equate version does not contain alcohol. (We're fans of this, but not everyone is: https://www.dr-jetskeultee.com/blog/alcohol-in-skincare-products-rather-not/) However, the Equate version smells slightly more chemical.
8. Equate Beauty dupe of St. Ives Apricot wash:
These scored an 83% in similarity. the main difference is that Equate again smelled slightly more chemical.
9. Equate's version of Ultra Guard Sunscreen: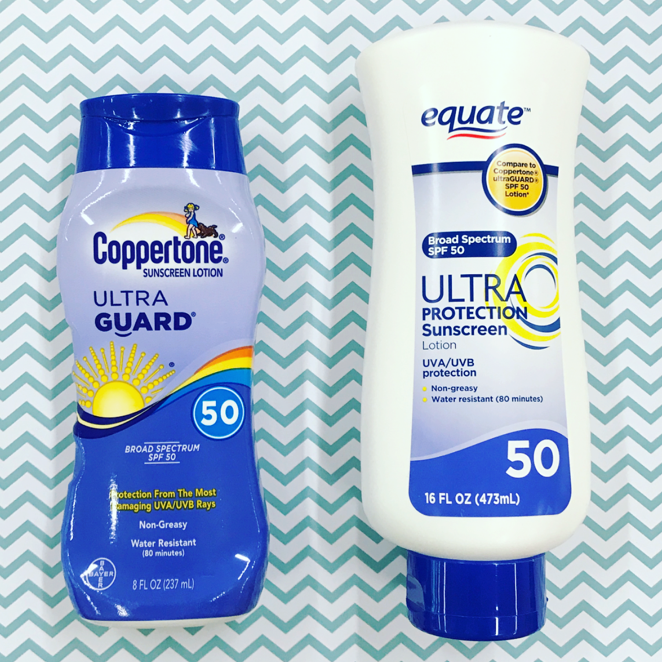 Same ingredient panels, better pizza. (Kidding!) But really, these two do have the same ingredient panels. Equate Ultra Guard is a great copycat, but as you can see has different packaging.
10. Equate's copycat of Gold Bond Ultimate Healing Lotion:
Consumers can't tell these apart, kiddos. However, they only get an 80% because the ingredients are NOT the same.
It's not all sunshine and roses; some Equate brand products pure garbage (like this one) But we feel confident in telling you to consider switching to these 10 products. If there's a product you'd like to see us test, please let us know and we'll review it for you.